Several of the WSC teams and/or their cars have arrived in Australia in the past weeks, and I thought it would be a nice idea to see what they're all up to. The following list is only of the teams of which I could find media (photos/videos) which show that they're in Australia.
.
---
Blue Sky Solar Racing
This Canadian team arrived in Adelaide two days ago, and will start their drive north to Darwin tomorrow morning.
.
.
.
Cambridge University Eco Racing
A number of team members have set up this British team's home base in Darwin, awaiting the rest of the team and their car Resolution.
.
.
.
Nuon Solar Team
The Dutch team in the orange shirts have been in Darwin for a while and are awaiting the arrival of their car Nuna7, which they expect tomorrow. In the mean time they are setting up their base of operations at the Nightcliff Primary School, and playing football against the pupils.
.
Punch Powertrain Solar Team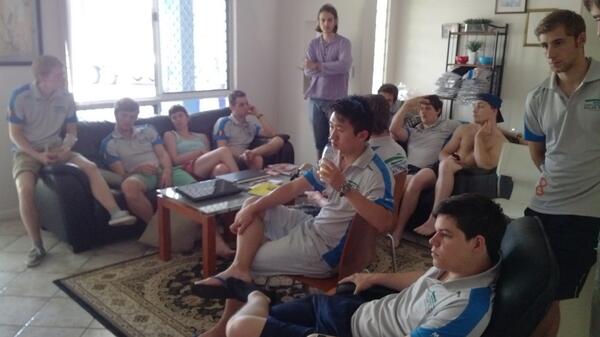 This Belgian team arrived in Australia a week ago, and a number of them have been making the trip from Adelaide to Darwin, which resulted in this nice video.
.
Solar Team Twente
This team has been in Australia for around two weeks, and for a complete overview of what they've been up to, see their Facebook page. The photo on the right is interesting as it shows the team showing their solar racing car to young Australian students, teaching them about solar racing.
.
Stanford Solar Car Project
Although no photos are available yet, the team has arrived in Melbourne, and has received their car Luminos yesterday. Presumably, they'll be making their way to Darwin soon.
University of Michigan Solar Car Team
Part of this American team has been Australia for nearly two weeks, and they're testing their car Generation on Australian roads. This video shows the car on the road.
.
.
UWS Solar Car
This team is based in Sydney, Australia, so technically they've been in the country for their entire existence
No word yet when they expect to arrive in Darwin.
Hochschule Bochum SolarCar Team
This team has been in Australia for nearly two weeks, an they travelled from Sydney (where they arrived) to Darwin (Google Translated link of their German website.
.
.
Solar Team Eindhoven
The team and their car Stella arrived in Darwin a week ago, after the trip up from Adelaide. Stella has already tasted Cox Peninsula Road for testing.
The team also published a nice musical video of their preparations in Australia.
.
University of Calgary Solar Team
No word about the team having arrived in Australia yet, but today the team announced that their car Schulich Delta arrived in Darwin.
UNSW Solar Racing Team – Sunswift
Another one of the Australian teams who'll only have to travel domestically. No word yet on when they'll arrive in Darwin.
Aurora Solar Car
Technically in Australia, I'll mention this team, but they've been very silent for a very long time…
---
So – including the three Australian teams who are in the country but no in Darwin yet – there are thirteen teams already in Australia, almost a quarter of all the teams. With just 25 days to go, things are heating up!